Architecture gem in the Funkis style. Villa located 50 minutes from Reykjavík, 30-50 minutes from main tourist attractions, Golden Cricle with Geysir, Thingvellir. The spectacular black sands of the Northern Atlantic 15 minutes away. Many possibilities of the best day trips Iceland has to offer. To the highland, Landmannalaugar - to Eyjafjallajokull, to the Westman Islands, to Skaftafell National Park and Glacier Lagoon Breidamerkurlon. Golf course 5 minutes drive, horse riding 10 minutes drive. And so close to Reykjavík you can enjoy everything the city has to offer. Very good bus connections to Reykjavík.

The villa is on two floors, offering great space, comfort and privacy, original art. Luxury beds for 7 adults. One bedroom with private bathroom. 2 WCs. 1 washroom. 2 kitchens. One bathtub, 2 showers. Large and beautiful living room/dining room space. NEW: A study room upstairs with a nice view to the garden. Could also be used to accomodate a child up to 11 years on a folding guest bed. Big garden with old trees, large balcony.
Gourmet restaurants, all services, spa, geothermal swimming pool with outdoor sauna, within very short walking distance from the villa which is located in the center of Selfoss.
In winter, the villa is an ideal place to watch northern lights, to spend Christmas and New Year, School Holidays. In summer a haven of light where you can admire the beauty of Iceland around the clock. A unique location, a very special house. Best of both worlds, close to Reykjavík, and to Iceland's most spectacular places.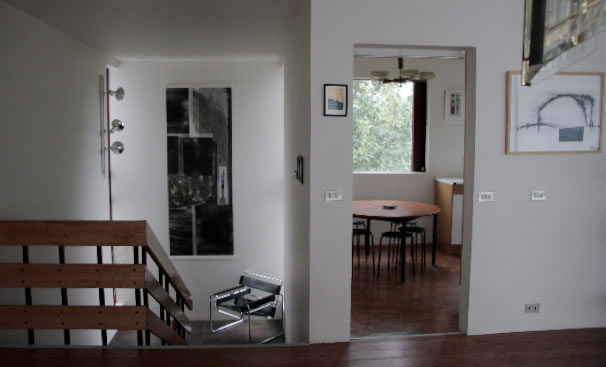 The space for rent is approximately 180 m2 (1900 sq ft). The layout of the house, the number of bathrooms, and one kitchen on each floor, offers privacy to its guests.
Size of beds: Upstairs, king size, 180 cm (DUX™). Ground floor: 160 cm, 140cm and 105 cm (DUX™).
Provided: Eiderdowns, bedclothes, towels. Kitchen equipment. Soap, shampoo.
Included in the price: High speed internet (Wi-Fi), cable TV/Radio, good Stereo set, electronic piano and free telephone calls to all landline numbers in Iceland.
Thoristun villa overlooks a magnificent river and mountains. It is within 5 minutes walking distance to shops, banks, library, cinema, and Hotel Selfoss, with its renowned spa facilities and Riverside restaurant. Menam restaurant, voted the best Thai restaurant in Iceland, is in the next street to Thoristun. Five minutes walk to bus stop, with frequent trips to Reykjavík. Ten minutes walk to an outdoor geothermal swimming pool, children friendly, with hot pools and outdoor sauna. Five minutes drive to golf course, and horseback riding on the user friendly Icelandic pony in the neighbourhood. Hairdresser and beauty saloon within 5 minutes walk. We particularly recommend Olof's beauty saloon (Snyrtistofa Ólafar) www.olof.is

Selfoss is located in a varied and beautiful region, in the middle of the greatest tourist attractions of the country. You only have a 10 minute drive to the black sand seashores of the North Atlantic, one hour drive to the famous and very active volcano Mount Hekla and the uninhabited, wild interiour. Selfoss is half an hours drive from Thingvellir, a place of incomparable beauty - the historic Parliament site from the times of the Sagas. Only 70 kilometers away are some of the most renowned sightseeing spots in the country, The Golden Waterfall (Gullfoss) and the geothermal area with the one and only Geysir. Half an hour's drive away is Hvolsvöllur and Fljotshlid, where Njal's Saga takes place. In little more than an hour you can reach the spectacular attractions of the south coast, with glaciers, waterfalls and very impressive and varied cliffs. You can make a one day excursion to the national park of Skaftafell, surrounded by Europe´s largest glacier (possibly the best place in Iceland for relatively easy and magnificent hiking), and the famous iceberg lagoon, Breidamerkurlon, where you can sail amidst the icebergs.

Winter rates (November 1- December 19, 2014 and January 4 - March 31, 2015): 160 Euros per night. 950 Euros per week. 2800 Euros Monthly.
December 20, 2014 - January 3, 2015: 190 Euros per night. 1190 Euros per week.
Spring and autumn rates (April 1 - June 30, 2015 and September 1 - October 31, 2015): 180 Euros per night. 1040 Euros per week.
Summer rates (July 1 - August 31, 2015): 200 Euros per night. 1290 Euros per week.
Minimum stay is 3 nights.
Final cleaning is included in the price.
reservations || conditions || contact


The District Commissioner of Selfoss.

Licence No.:
LG-REK-007647