Super recommendations from guests for this big villa that you have all to yourselves. A short distance from Geysir and other attractions, 50 minutes from Reykjavík. Close to the inland. A local guide available for our guests. Day trips possible to spectacular Skaftafell national park and Glacier Lagoon Breidamerkurlón.
3 bedrooms with big comfortable beds. Grand living room, plus dining room. Separate study room. Original paintings, chosen for the villa. Period furniture and designer objects. See in the News section recent super recommendations from our guests.
Thoristun Villa is a rare piece of modern architecture in the Scandinavian Funkis style. It offers our guests comfort and large luxury beds, and a lot of space, on two floors (180m2 / 1900 sq. ft). This special house is located in the centre of cosy Selfoss town, offering the best of both worlds, closeness to Reykjavík, and to Iceland's most extraordinary places of natural beauty. The villa is fifty minutes drive from Reykjavík, eighty minutes from Keflavik Airport and the Blue Lagoon.
Selfoss town is in the middle of Iceland's greatest tourist attractions, ranging from ten to fifty minutes drive - to the Golden Circle with Strokkur geysir, erupting every four minutes (chosen one of the most beautiful places on earth by Lonely Planet) and the one and only GEYSIR. The very active and famous volcano Hekla is but 50 minutes away, with Hekla Center. National treasure Thingvellir is even closer, and the black sands of the Atlantic with picturesque villages and restaurants, 10 minutes from Selfoss. A bit further on a variety of the best day trips Iceland has to offer: Eyjafjallajökull, Westman Islands, Skaftafell National Park, Glacier Lagoon Breidamerkurlon.
Thoristun Villa is on two floors, offering space, style, privacy and comfort.  Large and beautiful living room/dining room space (60 m2).  Original art by an internationally renowned artist, specially chosen for the villa.  Designer and period furniture and lighting in living room.  Bedroom upstairs has a queen size luxury bed, 180 cm (DUX™).  The bedroom is ensuite, with a separate clothes-room and own bathroom.  In the bedroom downstairs facing the back garden a luxury bed, 160 cm.  Good quality beds (140 cm and 105 cm) in the other downstairs sleeping room, facing the garden.  There are two WCs, one shower, one bathtub, and a basic shower in the laundry room. A washing machine and a clothes dryer is at your disposal.  The kitchen upstairs is well equipped, with dishwasher.  Next to it you find the dining room area, but it is also possible to have meals at the kitchen table.  Downstairs there is a second kitchen with basic cooking facilities and small dining area (for two to three people).
NEW: A study room upstairs with a nice view to an open green space behind the house. This room may also be used to accommodate a child up to 11 years on a folding guest bed.  There is a full size electronic piano in the living room, and some musical scores.  A small library, too, with Encyclopedia Britannica, and books in several languages.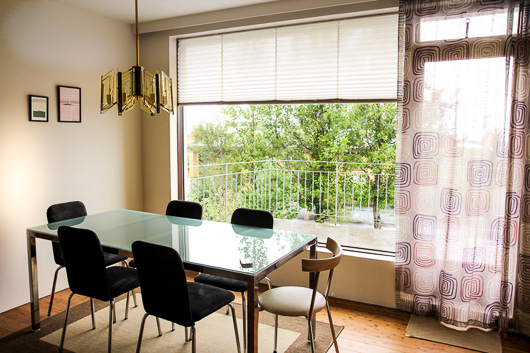 The villa is ideal for family or a group of friends.  Or for two people who wish to have a house all to themselves.  Due to its layout and the study room that includes a flat screen 23" computer monitor and a writing desk, a vacation could be combined with a working/scholarly activity.
Within short walking distance from the villa, a children friendly geothermal swimming pool (with hot tubs, outdoor and indoor sauna), gourmet restaurants, shops and all services. Golf course five minutes drive, horse riding (on the user friendly Icelandic pony) and popular farm visiting ten minutes drive. And so close to Reykjavík you can enjoy everything the city has to offer, also by using the frequent bus connections.
Thoristun Villa has a big parking space, and a large garden with old trees, large balcony.
From the beginning of September to the end of April, Thoristun Villa is an ideal place for northern lights watching.  A place to spend Easter and other School Holidays. From end of March/beginning of April almost uninterrupted till mid June, ideal as headquarters for bird-watchers, with short distances to main bird-watching sites, by the sea shore, and inland, too.  E.g. swans and geese (pink-footed geese) can be seen by the thousands.  Summer is a haven of light where Icelandic nature may be admired around the clock.  And quiet autumn brings out a firework of the colours of arctic fauna in the surrounding landscapes. A professional guide who we work with can take our guests on private guided tours by agreement. In Selfoss, too, an expert on bird-watching, is willing to advise our guests.  
Thoristun villa has a view to the mountains, and is situated close to Ölfusá River and lovely walking paths. Selfoss is located between the ocean and the mountains which greatly contributes to the possibilities and the variety of recreation. We recommend the solitude on the black sand seashores of the North Atlantic (ten minutes drive) and the picturesque villages and restaurants by the sea side.  Kayak tours, too.  The forty-five minute drive to the roots of famous volcano Mount Hekla is a must - with its strange landscapes of lava, old and new. Heklusetur at Leirubakki, the Hekla Center, is a place to write home about. The café at the Center is recommended, too.  From there, a relatively short drive to discover the wild inland, with Landmannalaugar.  

Selfoss is half an hours drive from Thingvellir, a place of unique beauty - the historic Parliament site from the times of the Sagas. Half an hour's drive, too, to Hvolsvöllur and its center for Njal's Saga, the masterpiece of old Icelandic literature.  Here you can discover Viking traditions, and see with your own eyes the farms where the heroes of Njals saga lived, and the landscape they lived in.  
In little more than an hour from Selfoss you reach the spectacular attractions of the south coast further on east, with glaciers, waterfalls and picturesque cliffs where sea-birds thrive in impressive numbers. It is possible to make a one day excursion from Selfoss to Skaftafell National Park, possibly the best place in Iceland for relatively easy and magnificent hiking. Close by is the iceberg lagoon, Breidamerkurlon, where you can sail amidst the icebergs.
Provided: Eiderdowns, bedclothes, towels. Kitchen equipment. Soap, shampoo.
Included in the price: High speed internet (Wi-Fi), cable TV/Radio, good Stereo, free telephone calls to all landline numbers in Iceland.
Winter rates (November 1- December 19, 2015 and January 4 - March 31, 2016): 160 Euros per night. 950 Euros per week. 2800 Euros Monthly.
Spring rates (April 1 - June 30, 2016): 180 Euros per night. 1040 Euros per week.
Holiday Season and Summer rates (December 20, 2015 - January 3, 2016 and July 1 - August 31, 2016): 200 Euros per night.
Minimum stay is 3 nights.
Rates are based on 2 guests, add 8 Euros (25 Euros during Summer and Holiday Season) per guest, per night.
Final cleaning is included in the price.
reservations || conditions || contact


The District Commissioner of Selfoss.

Licence No.:
LG-REK-007647